Grow your Business More Sales, More leads
Local and affordable website design in Solihull and the surrounding areas, delivering the website your business needs to succeed.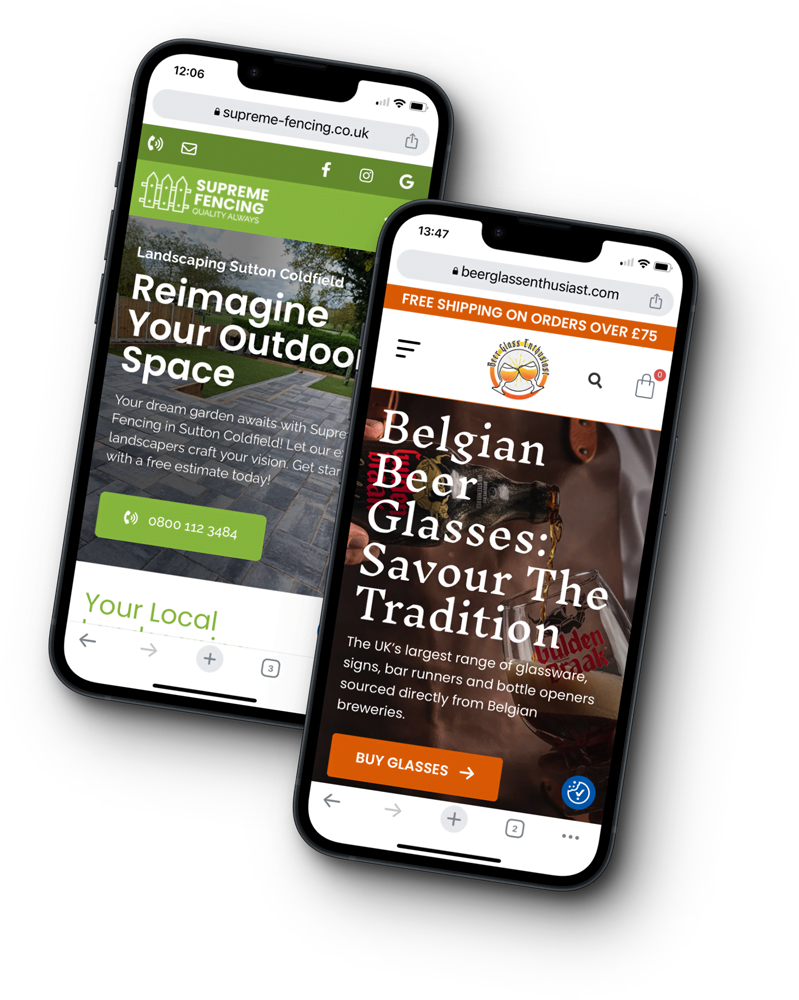 I am passionate about creating unique, engaging and functional website design for small and medium sized businesses in Solihull.
I combine my technical and design oriented experience to offer a wide assortment of services in order to develop, build or revitalise your brand.
My experience over the past 20 years as a web designer allows me to develop a concise strategy to help your business grow. From the beginning of the project, I will work closely with you every step of the way in order to complete and establish your vision.
I provide high quality and affordable web design in Solihull.
Solihull Web Design Company
I've produced many websites for businesses in and around Solihull.
Many have been in the event industry, such as The Schoolwear Show, The Buying Groups' National Flooring Show and the INDX Shows.
All of these events were held at Cranmore Park Conference and Exhibition Centre.
In addition to these websites, I designed and developed a number of more corporate websites, in Solihull.
I've also worked with clients who require professional website design in Sutton Coldfield and Birmingham.
Professional web design is made up of many different elements and I've listed a number of them below. If you need help and advice with your web design project, please do get in touch.
Monthly Web Design & SEO Tips
Monthly SEO and web design inspiration delivered directly to your inbox!
Andrew gave us clear and concise instructions of what we needed to provide, there was excellent communication throughout the whole process. He is professional, courteous, precise and it is a pleasure to work with him and we are really, really pleased with our new wesbite.
Already for some keywords after only around 2 weeks my new website is appearing on the 1st page of Google! The feedback regarding my website from clients, family and friends has been fantastic, with many commenting on how professional it looks.Andrew provides the 'personal touch' you don't get from large companies.
We went to Andrew to set up our website not having one before or really knowing what we want. Andrew simplified it and broke the whole process up to us. We had to give him all Information and pictures, but then what he created for us with what we gave him is phenomenal !!! The details and little things he has added that me never thought of 👌🏼
Andrew designed and set up our first web site for Rapid-Myco Technologies. He translated our brief very accurately and his first design was the one we have adopted which we are obviously very very pleased. He was responsive, highly professional and a pleasure to work with.
Andrew is a fantastic web designer combined with dedication and professionalism. He created an easy to navigate, modern and interactive website for me. He is very informative and always ready to provide suggestions, Andrew is prompt to respond to questions and most importantly he delivers what is asked for! I would highly recommend.
Andrew was recommended to me by a friend who had some work done. This recommendation couldn't have been any higher. Andrew has excelled in every aspect of this requirement. He is professional, punctual, polite and adept in every aspect of his work. I'm over the moon with the website Andrew has created for me. I'm reaping the rewards of his expertise near instantly.