I've always been a big fan of a power nap but unfortunately, a quick sleep in the afternoon isn't going to improve your local SEO.
In this article, I'm going to cover what exactly is a NAP and hopefully demonstrate how a good NAP is essential for local SEO.
What does NAP stand for?
NAP stands for Name, Address and Phone number and it's really important that this key business information is clearly shown on your website homepage or footer so that it can easily be found by those people visiting your website.
It's also very important that this NAP information is consistent across the internet.
If your business address is:
123 Hight Street
Birmingham
West Midlands
Ensure that this is how you are listed in ALL places and that variations, such as the one below, do not appear:
123 High St
B'ham
W. Mids
This is the kind of inconsistency that will cost you.
This means that your NAP should appear the same on each source where Google may find it.
Why is NAP important for local SEO?
NAP is important for local search engine optimisation because Google wants to provide its users with accurate and valid information.
If Google finds inconsistencies with how your business name, address or phone number appear – this could lead to customer confusion and ultimately a poor user experience. As a result, Google may penalise you and it could affect your ranking in the search engines.
What is a NAP citation?
Simply put, a NAP citation is a listing on a website, which is not your own, where your business name, address and phone number are referenced.
This will include local, national and even international business directories, sector-specific directories and other listing websites.
Major UK-based directories include:
And there are many, many more and they are essential for local SEO citations.
How NAP consistency improves your local SEO
As mentioned above, citations are considered to be a ranking factor for local SEO.
Google doesn't have the time to manually review all the business information out there. It relies on data points around the internet to determine the accuracy of your business information.
If your business is listed – with consistent data – on a wide range of trusted online business directories, then this indicates to Google that your business is valid and also more likely to be trusted.
Sending out the right trust signals – both to Google and to the user – is always going to be a winner for you.
Google My Business and NAP local SEO
One of the key NAP citations on the internet has to be your Google My Business page and optimising your Google My Business profile is key to your local SEO success.
I've written about the benefits of Google Business Profile listing and how to boost your SEO using the power of online reviews already but claiming your business and ensuring the information is correct there is an essential first step for Google Search and Google Map citations for local business SEO.
Business citation management
As you can see from the above, it's important to keep on top of your citations around the web if you want to rank well on Google for local SEO.
The problem is that there are just so many websites out there and you may not feel as though you have the time to tackle this enormous task.
The good news is, that there are some handy tools that can be used to check how you're doing and highlight any inconsistencies that currently exist.
And, if that still seems too much effort, I do offer an affordable business citation management service which can be tailored to yoru specific needs.
Tools to improve your NAP consistency
For those of us in the UK, I find the citation tool over at Yell to be very useful for building your local SEO citations (www.yell.com/connectscan/)
Just enter the following details and you can see how well you're doing:
Business Name
Phone Number
Email Address
Address
Quick heads-up, you will probably get a call from a salesperson at Yell who wants to sell you their digital marketing services but the information you get from this quick check is certainly worth the time of a quick sales call.
Obviously I'd prefer you to come to me if you want help with your local SEO citation-building service and management but you're free to choose…
You'll then receive an 'Online Reputation Report' from Yell which might scare you or fill you with hope.
They'll be a doughnut chart giving you a score and then listing the following with percentages:
No Listings
Inconsistent Listings
Consistent Listings
If the green out-weighs the red and orange, then you're on the right track.
In addition to Yell, there are plenty of other tools out there. Some are free and others are not. You can usually get a free trial of the paid tools – which, if you're quick enough, might give you enough time to get most of the work done.
Many of those that offer the paid tools will also offer a service to do the work for you – at a cost, obviously.
Finding further existing citation links
Whilst the Yell report will cover a number of the major directories, there are clearly lots more out there on the internet.
The simplest way to find what other directories may be linking to you is via the Links option on Google Search Console. If you don't already have Google Search Console set up with your website I very much doubt you've made it this far, so let's just assume that you have.
You should hopefully see a lovely long list of sites that link to your website.
Scan through those to pick out any additional listing sites and check your NAP consistency on them.
Additionally, there are loads of backlink checking tools out there (again, some free and some not) that will show you sites that link to yours. Find those that look like they might be listings sites and check to ensure your data is correct and consistent with everywhere else.
Local SEO citation building
Thus far we've been looking at consistency of NAP citations. Additionally, we should also bear in mind quantity and quality.
One way of increasing the quantity of citations is to do a little competitor research.
Using some of the backlink tools, you can enter the domains of some of your competitors and see who links to them. You'll usually find a few more citation links that you can tap into. And because you're researching your competitors, you should also find directories that are specific to your industry as well.
As for quality, if the directory site looks really unprofessional – the chances are it may not add too much value to your site. One way of checking the quality of a site, is to find out its domain authority. The lower the score, the poorer the quality.
Again, there are plenty of free tools for this – the MozBar Chrome extension is an easy way to check a site's domain authority.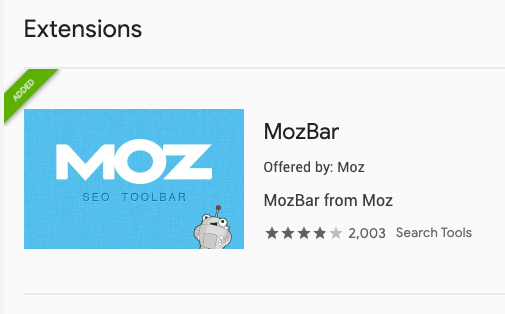 Extra benefits to listing citations
The majority of these directory sites will let you add more that just your name, address and phone number.
You can often also add:
A short bio
A logo
A link to your website
Your email address
Some images
Your social media accounts
The links to you website may be a 'no-follow' link and not therefore pass 'link juice' to your site, so will not necessarily benefit you as quality backlink but it can still act as a means of a customer learning about your business and contacting you.
Be sure to take advantage of these opportunities.
Bonus tips
Have a spreadsheet or text file with the commonly requested information so that you can quickly copy and paste the information the directory website requires as well as a folder of your best images ready to upload.
I also keep a spreadsheet of all the websites along with my log in credentials and a notes field detailing the state of progress with each citation.
Conclusion
Ensuring the consistency of your NAP really is essential for local SEO but it can be a bit of a slog. Hopefully, the points above will guide you in the right direction.
Whilst a lot of the groundwork can be done in a couple of days, you have to think of it as a process. Some of the more manual directories may take weeks or months to list your site – if at all.
Be sure to persevere and your patience and diligence will ultimately be rewarded!