Make a Great First Impression
When potential clients in Sutton Coldfield, Birmingham and the surrounding areas are looking for a local gutter cleaner, handyman or carpet fitter, the first impression is everything.
A well-crafted tradesmen website design is your chance to shine.
It reflects the quality and professionalism of your services, helping you stand out in the crowded market.
Think of your website as your online shop front. It's the first thing customers see, and you want it to look good.
A smart, professional website shows you mean business. It attracts customers and makes them trust you to do a great job.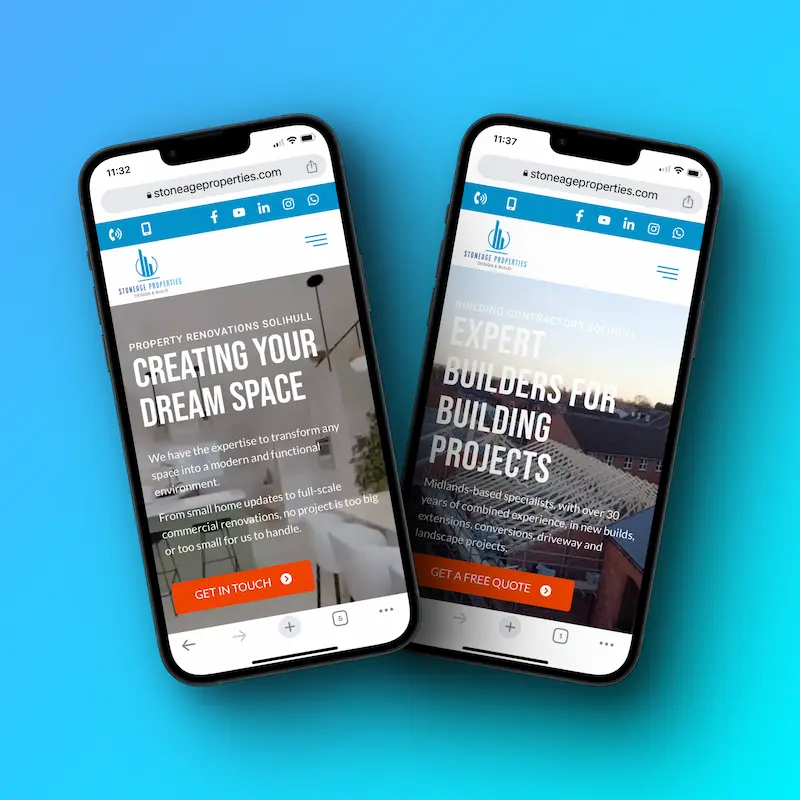 Easy for Customers to Use
A good website makes it easy for your customers to find what they're looking for. It's like a well-organised shop where everything is in the right place.
Our affordable but professional websites for tradesmen are designed with your trade in mind, making information accessible and presenting your services in the best light.
Customers can easily find out about your services, get a quote, or contact you.
They'll enjoy visiting your site, and happy visitors turn into happy customers.
We went to Andrew to set up our website not having one before or really knowing what we wanted. Andrew simplified it and broke the whole process up to us. We had to give him all the Information and pictures, but then what he created for us with what we gave him is phenomenal !!!

The details and little things he has added that I never thought of 👌🏼

Shane Munn, Supreme Fencing
It Tells Your Story
Your website is the perfect platform to highlight your completed projects in the Sutton Coldfield and Birmingham area.
You can post pictures of completed jobs, customer testimonials and explain why you're the best at what you do. With our custom-designed tradesmen websites, you can easily update your portfolio and showcase your expertise and skills.
It's like having an always-available salesperson, showing potential customers why they should choose you.
Mobile-Friendly Tradesman Websites for On-the-Go Clients
Nowadays, everyone's on their phones, so a professional website for tradespeople needs to work on any device.
Whether your customers are on a computer, tablet or mobile phone, they can easily reach you.
We ensure your website is accessible and looks professional on all devices. Mobile-friendly websites are crucial in today's smartphone-dominated world.
That means you're always open for business.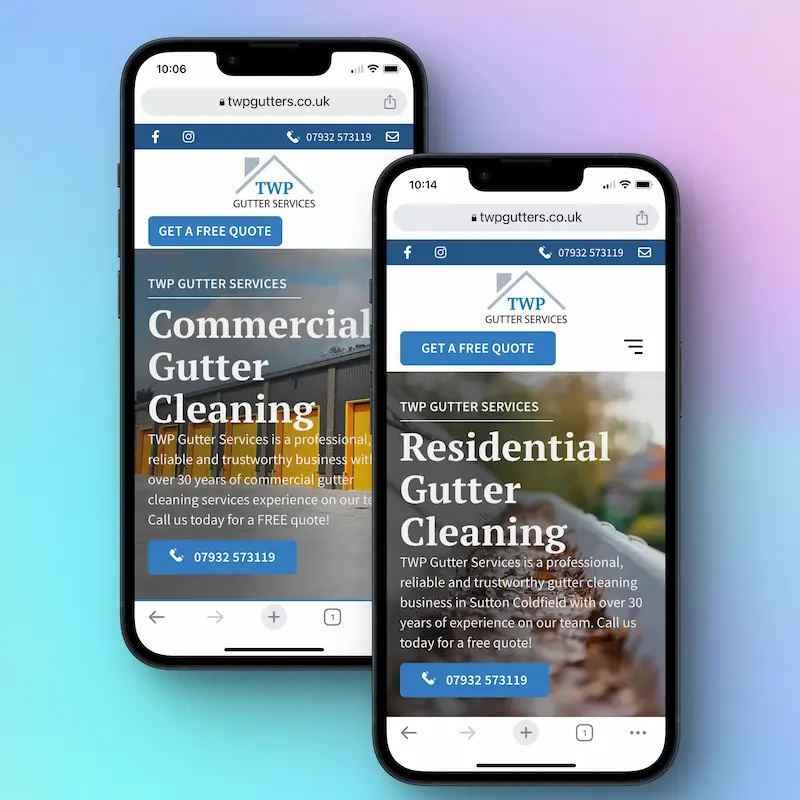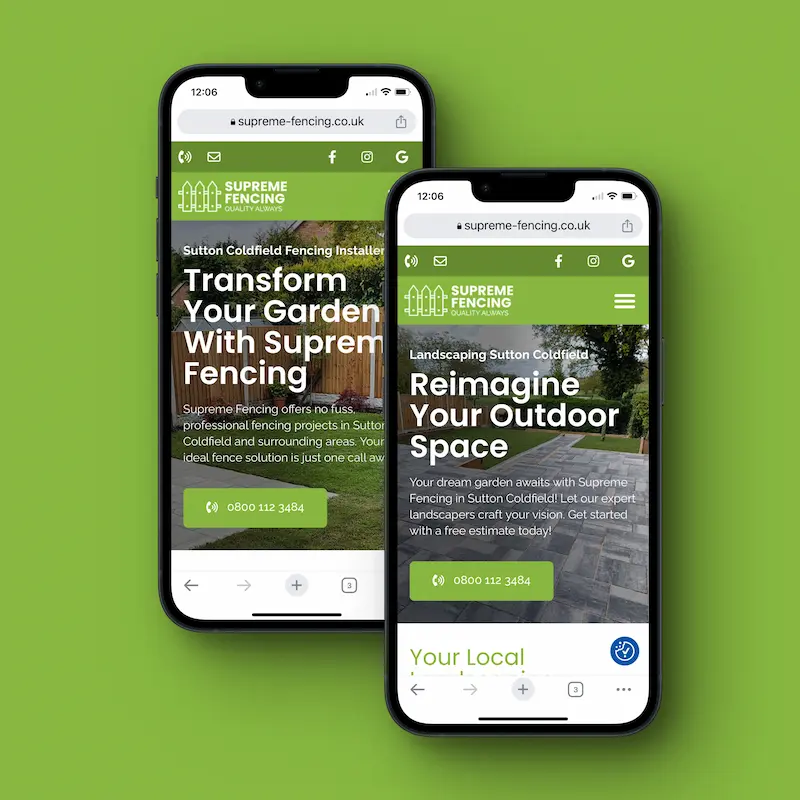 SEO for Tradesman Websites – Get Found Locally
A website makes your business pop up on Google when people are looking for the services you offer. It's like having your business on the busiest street in town, where everyone can see you.
The easier you are to find, the more business you'll get.
Appear at the top of the search results when potential clients in and around Birmingham search for your services online.
With our SEO-focused local websites for tradespeople, we ensure you're easily found on Google, especially for local searches like "carpet fitter in Sutton Coldfield" or "fencing in Sutton Coldfield".
Safe and Secure
In a world where everyone's worried about scams, a professional website shows you're legit.
It's built to keep your business and your customers' information safe.
It's another way to build trust with your customers.
From start to finish of my new website I have found Andrew's efficiency and knowledge of his work to be first class.

My tired old website has been completely transformed and is now smartphone friendly and looking very professional.

I have already recommended Andrew to one of my customers and will continue to do so in the future.

Pete Curtis, Pete the Carpetman
Show Off Your Happy Customers
There's nothing like a good word from happy customers to bring in new business.
Your website can show off reviews and testimonials and online reviews are great to drive traffic to your website.
It's proof that you do a great job, and helps convince new customers to pick up the phone.
Affordable Websites for Contractors and Skilled Trades
Getting online doesn't have to break the bank.
We offer budget-friendly, affordable but professional tradesmen website solutions, including a range of websites and totally custom designs.
Make your mark in the digital world and connect with clients looking for your trade services in Sutton Coldfield and surrounding areas.
Always Improving, Always Updating
The digital world is always changing, and your website can change with it.
It can be updated and improved to meet your growing business needs.
It's not just a one-time thing but a long-term investment that keeps bringing returns.
With the manual and training I offer as standard, you can maintain your website yourself, but if you're really not into that, I offer great value WordPress support packages as well.
Wrapping It Up
For any tradesperson, be it a builder, carpet fitter, handyman or any other professional, having a website isn't a luxury – it's a must.
It's your online business card, showroom, and salesperson all rolled into one.
For tradespeople in Sutton Coldfield, Tamworth, Lichfield, Walsall, Birmingham and beyond, getting online means getting found, building trust and booking jobs.
Make the smart move, invest in a professional website tailored to your trade, and watch your business grow in the local area.
Local Tradesmen Websites | FAQs
Why Do I Need a Website for My Trades Business?
A website acts like your online business card. It helps potential customers find you, learn about your services, and get in touch. In today's digital age, many people look online first when they need a service, so having a professional website ensures you don't miss out on potential business.
Is a Social Media Presence Enough?
While being on social media can help, having a professional and SEO-optimised website ensures you appear in local searches in Sutton Coldfield, Tamworth, Walsall, Birmingham and so on when potential clients are looking for your specific trade services.
How Can a Website Bring Me More Business?
A well-designed website showcases your skills and previous work, allows customers to easily contact you, and boosts your visibility on search engines. When potential clients search for services like yours online, a professional website ensures your business is seen, helping to increase inquiries and job bookings.
I'm Not Tech-Savvy, Can I Still Manage a Website?
Absolutely. Many modern websites are user-friendly and require no technical expertise to manage. Updates and changes can often be made with simple drag-and-drop interfaces, and there are plenty of professionals available to provide ongoing support if needed.
What Information Should I Include on My Website?
Include a detailed list of services, your contact info, and a portfolio of your past projects. Make it easy for Sutton Coldfield locals to find, trust, and contact you.
With the right professional website, tailored and optimised for trade services, your business will not just be another name in the crowd. Stand out, get noticed, and turn website visitors into loyal customers in the Sutton Coldfield and Birmingham areas.
How Much Does a Tradesman Website Cost?
The cost of a tradesman website can vary greatly depending on several factors. These include the complexity of the design, the number of pages, any specific features or functionalities you need and ongoing maintenance and updates. Generally, a basic website can start from as low as a few hundred pounds, while a more complex, custom-designed website with advanced features can cost a few thousand pounds. It's essential to identify your specific needs and budget so that I can offer a tailored estimate. I offer a range of affordable options and am always happy to provide transparent pricing tailored to your unique requirements and financial capacity.