Table of Contents
Online reviews have become an essential part of every local business owner's tool kit. Learn how to harness the SEO power of reviews for your business.
Reviews help consumers decide what products or services to buy, where to visit, where to stay, what to eat and when to eat there!
93% of consumers used the internet to find a local business in the last year, with 34% searching every day [Source].
In just a short space of time, reviews have quickly become an integral part of business on the internet.
How Reviews Can Help Your Business
Trust is a huge factor in consumers choosing you over your competitors.
Having a good number of four and five star reviews shows that your business can be trusted to deliver on its promises and increases the likelihood of customers spending their money on your products or services.
In fact, studies have shown that consumers are likely to spend around 31% more on products and services from businesses that have excellent reviews backing them up.
79% of consumers trust online reviews as much as they would a personal recommendation [Source] from a friend or family member, making reviews as powerful as word-of-mouth marketing for growing your business.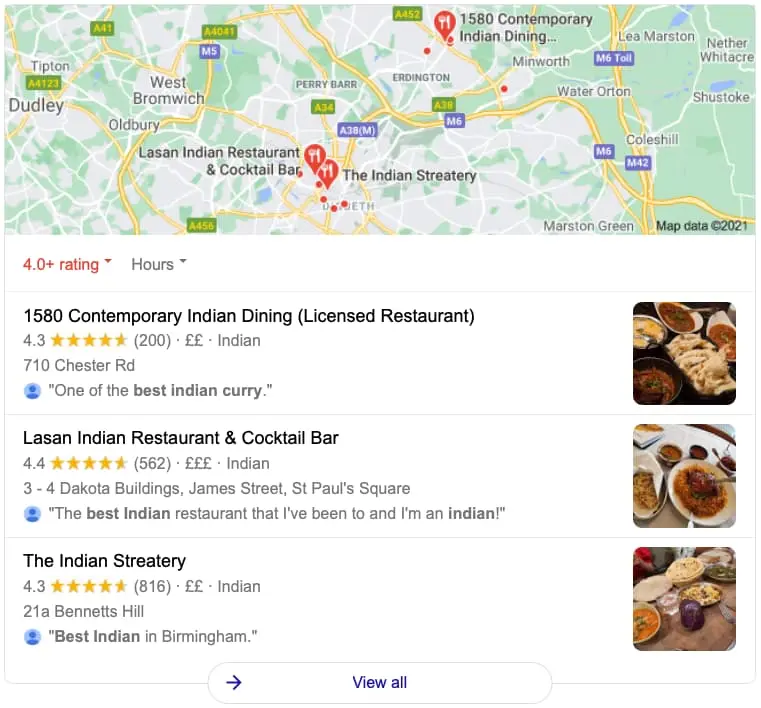 People are hesitant to purchase from businesses with no reviews, so even a small number of reviews is better than none at all.
According to a 2018 study by Moz into local SEO ranking factors [Source], online reviews are estimated to make up 10% of the criteria for how Google displays search results and therefore some kind of review plan should definitely be part of the SEO services you are looking for.
Studies have also shown that high-star reviews on your Google Business Profile profile increase your click-through rate (CTR), so good reviews will also deliver more traffic to your website.
And as CTR is a ranking factor, the more people that visit your website, the more likely it is that Google will see you as popular and give you an additional rank boost!
How Many Google Reviews Do You Need?
Some studies have shown that having merely five or more reviews on your Google Business Profile page can increase your rank by around 2 places!
However the same study suggests that the rate of growth in your rankings doesn't just continue in a straight line with the growth of reviews. The next big improvement will come when you hit approximately 100 reviews, so there's work to be done!
Does the Review Score Affect SEO?
The study also suggests that a one star review can have a negative effect but obviously enough, if you're getting four or five star reviews, then this will lead to improvements in your rank. But it's important not to manipulate these reviews as it could leave you in hot water with Google!
Does the Content of Online Reviews Affect SEO?
The content of reviews matters.
You don't want one line or one-word reviews but rather descriptive reviews of a couple of paragraphs or more. Having some product or service keywords, and the location in which you operate, in the review text would also be beneficial.
Additionally, rather than looking at reviews as merely feedback, you should also think of them as additional content. If the review contains keywords relevant to your business then this gives Google a better idea of what your business offers and could help you rank higher and increase your CTR.
How Often Should You Get Reviews?
The rate of incoming reviews should be natural for your business. What you don't want to happen is an initial burst of reviews and then nothing for months. If that were the case, then the benefits of those early good reviews would soon start to wane.
Just keep the reviews at a consistent, natural level for your business for the best results.
Which Websites Are Best for Reviews?
Obviously, Google Business Profile is the best place to start if you want to focus your energies on just one website. There are also Facebook business pages, Yell, Yelp and, if you're willing to pay for them, Trust Pilot and Feefo are also good.
There may also be some industry-specific websites that you know about. I would personally focus on Google but it depends on where your audience comes from.
If you do a lot of work on your Facebook business page and that is where your main audience is, then you might want to focus your energies there.
How to Get Online Reviews
According to a Bright Local study the good news is that 72% of consumers will leave a review if asked.
There are many ways of getting reviews and you'll no doubt know which is best suited to your industry.
Getting someone's email at the time of service and then sending a request for a review on completion of the work is a strategy that works for many. And be persistent. Don't be too shy about following up your initial request – although give it a few days before you do. However if you don't hear back after a couple of reminders, then stop.
If you sell physical products or services in person, then leave the web address of the review site on printed materials such as receipts, handouts or business cards. Consider using a QR code to make it even easier for someone to get to the link. There are plenty of free QR code generators out there, here's just one:
https://www.qrcode-monkey.com/
Where Can I Find My Google Review Link?
To make things easy for your clients or customers to leave a review for your business, you're going to need your Google review link.
Getting the web address for your Google My Business review page is easy.
Just log into you Google My Business page and there on the Home dashboard, look for the section below:
Click on the Share review form link to access address you need. You can then copy the address and share it via emails, your printed invoice, via a link on your website or even via a QR code.
Responding to reviews shows that you value your customers and the feedback they leave about your business. Additionally, if you successfully engage with a customer who left a negative review, they might consider changing it or even deleting it.
Also Google has confirmed that responding to reviews plays a role in SEO [Source].
Do Negative Reviews Affect SEO?
The best advice when receiving a negative review is to keep calm.
While the temptation might be to fire off a stinging rebuttal in the heat of the moment, that's not going to help the situation.
So keep calm and have a strategy.
Here's a really good article on how to deal with poor reviews: https://moz.com/blog/diagramming-the-story-of-a-1-star-review.
And it's certainly long enough for you to have calmed down by the time you've read it!
Conclusion
Google wants to provide a great service to its users. As such, it will tend to rank those websites with more positive reviews higher. Why? Because other users have told them that these businesses do what they do very well.
Online reviews can be a great ally to your SEO strategy and provide a major boost to your business. The tricky part is truly understanding how to use them properly.
Ultimately, it all comes down to your ability to gather the reviews on the right platforms, respond to them appropriately, and of course, use them to improve your business overall.
If you want some professional help with your Google My Business optimisation and review building, please follow the link and I'll be happy to help.
SEO is always changing and evolving. Reviews are becoming increasing important for your SEO strategy – for on-site trust indicators, click through rates from the search engine results pages (SERPs), conversion optimisation and local ranking factors.
If you focus on providing a great service to your customers and collect high quality reviews as a result of that then you should see yourself appearing at the top of results in Google.
5 Quick Takeaways
Get at least five reviews, then slowly build up to getting 100+.
Try to get an average review score over four stars.
Consider gently guiding your reviewers. You don't want to influence the output but rather give the reviewer an idea of the kind of review that is most helpful. As long as you make it easy for them, most people are happy to help.
Be consistent in asking for reviews and, as your business grows, let your review process grow with it.
For every five reviews you get on Google My Business think about trying another of the review websites and concentrate on any that are particularly appropriate for your audience and keywords.
Google Business Profile + Optimised Site + Backlinks + Citations + Reviews = Great results in local search